Right from the beginning of Her webcam career, The Lady Katrina has been at the TOP of Her game. Putting hours in, and getting rewarded with an audience of adoring fans, and a fat paycheck.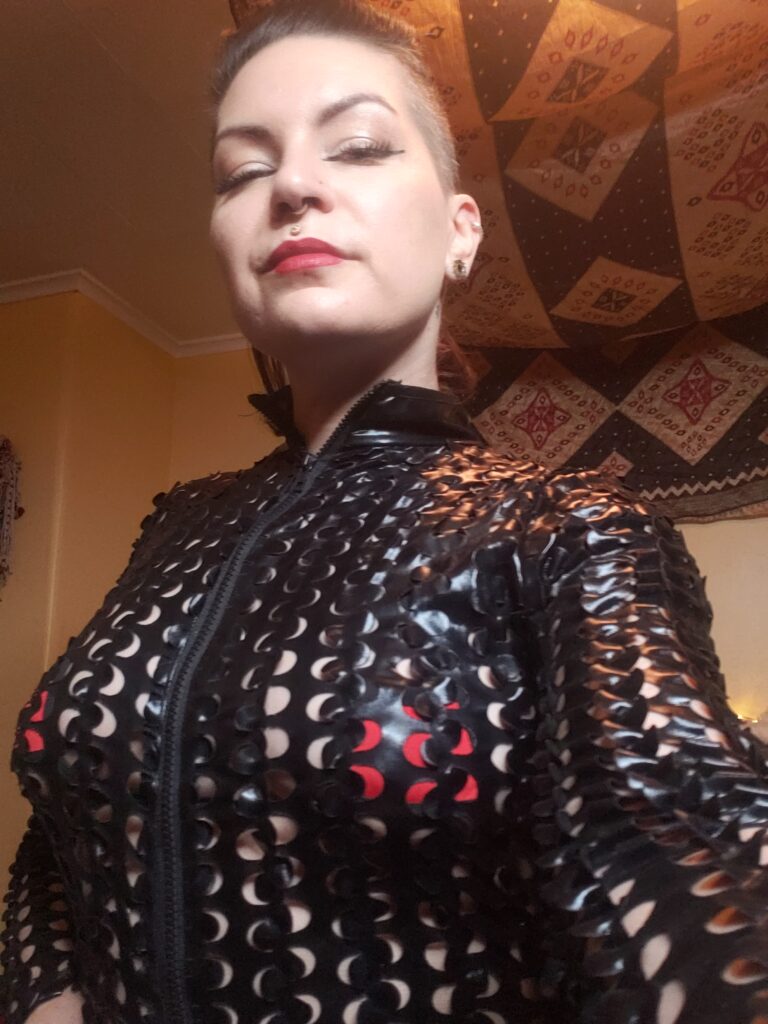 For Treasure Tuesday we are releasing this interview with The Lady Katrina, written by TreasureCams studio head, Bella Vendetta!
This interview along with a full photospread will appear in the next issue of https://kinkqueens.com/
I first got to meet The Lady Katrina at Fire and Wolf Studios, in Western, MA. I knew She would be a kindred spirit. We happened to move around each Other for quite a few years, almost connecting but not quite. At one point I found out She had history as an exotic dancer, and I asked Her to come perform with Me at a club, and gave Her the inside skinny on the manager being a stocking fetishist so We could control him, haha! Great minds truly do think alike. I ended up quitting the club actually soon after I started so We missed our chance again, and it wasn't until several years later that We would reconnect. Again at another night club, where I was throwing a performance and asked The Lady Katrina to grace the stage with Her presence. It was such a busy night, you know how parties go…We barely got to connect and hang out. When I managed a club for a short time The Lady Katrina came to perform and take everyone's money and it seemed like it was going to be the start of a beautiful relationship…and again…stripclub shit. I ended up quitting the club, We didn't get to realize our club dreams together yet…I definitely did NOT give up! I knew We were somehow destined for greatness together. When I started My webcam studio: TreasureCams.com, I approached The Lady Katrina asking if She had any interest in livecam. She wasn't sure at first but with some urging to try it out, She quickly found Her way into a TOP earning spot across the whole platform!
From there our connection has grown and we've been able to work with each Other in a professional and artistic capacity. Doing gorgeous photoshoots, making plans for videos and live performances and working together on The Lady Katrina's cam takeover!
I think She has a really unique perspective of someone who has been in the professional Domination and entertainment industry, in person for so long, and then made this incredibly difficult switch to online, and excelled at it!  I wanted to interview Her and find out alot more about what She has going on.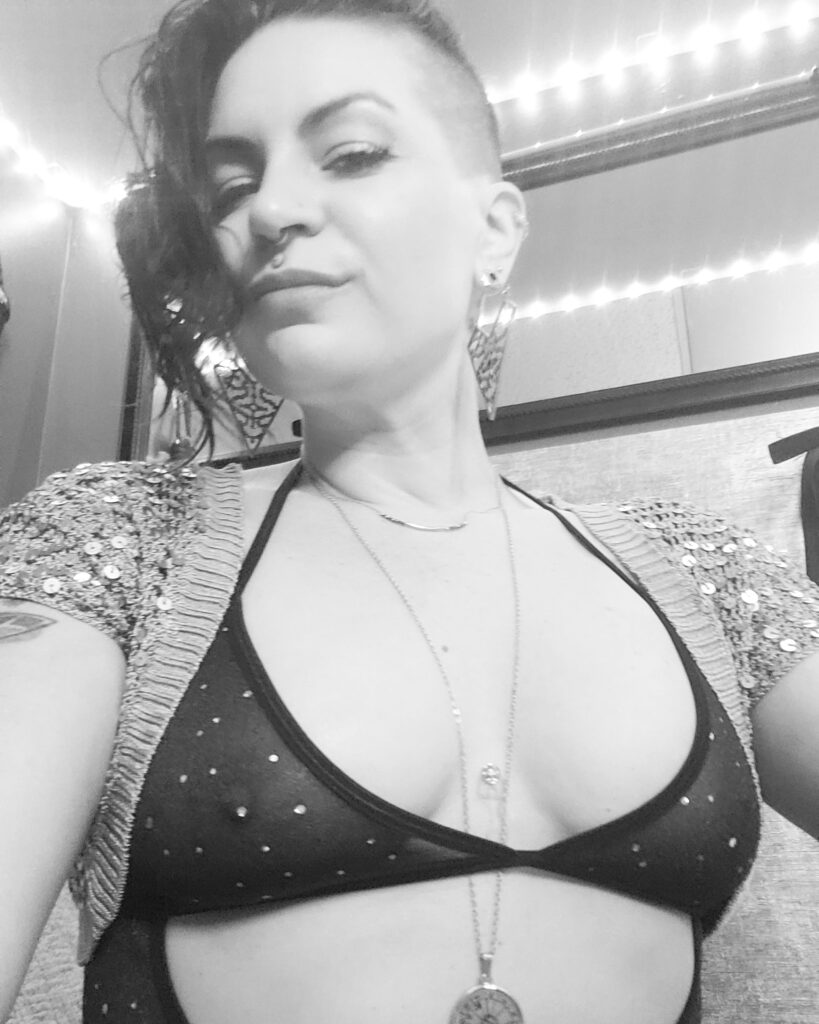 How did You first get introduced to fetish play and BDSM?
I have always been an open minded and experimental person. I realized very early on I love to bite, scratch/claw, and have My feet worshiped. As an avid reader, I would have to say that finding Anne Rice's erotica was definitely My biggest eye opening in regards to fetish & BDSM. The first fetish event I ever attended felt like a home coming and I knew I had found My people.
How did You decide to pursue professional Domination?
I was actually recruited into the professional aspect of Domination and kink. I was already working as a performer/dancer and professional cock tease and something in My demeanor and approach caught the attention of My first official mentor, Mistress Louis D. Perhaps it was that I already was integrating foot and ass worship as well as breath play and cbt into My dancing that clued her in. I honestly didn't even realize that professional Domination was an option up until that point!
What was Your training or learning experience like?
I would describe My training as old school apprenticeship. I would say that Mistress Louis D was old guard militant/domestic in her Dominance style and it reflected in My training. I cleaned the studio and equipment after her sessions. I listened in on Louis answering calls and taking bookings, and then assisted in fielding these for her. With the agreement of her clients, I assisted in sessions as a voyeur, a second bottom, and co-Domme. One day Louis had an inquiry that she wasn't inclined towards and said I should book the client if he and I were both agreeable to it. I continued to see clients via and with Louis for some time before we eventually parted ways. I then made My way to The Red Door Dungeon whom, at the time, My friend Miss BB Kitty was Head Mistress. Under Kitty's guidance I solidified My established skills and got to continue to grow and develop as a Domme. I feel very lucky and blessed to have had the mentors I did early on. They were both extremely professional, safe (in regards to both their own safety and their submissives'), and generous in sharing their wisdom. What I learned from them truly set the tone for this adventure. Over the years I have learned from many others of course, including other professional and lifestyle Dominants as well as educational events and programs.
Where are some of the places You have sessioned?
I have sessioned in private and public dungeons/studios, at events, and public play outings in MA, OH, PA, WV, FL, NV, NC, & SC. Public dungeons I have sessioned at include the infamous Red Door Dungeon on Cleveland, OH and the unfortunately now closed Fire & Wolf Dungeon in Chicopee, MA.
Last year You transitioned to online work and joined TreasureCams webcam studio. What has been Your experience of transferring skills and knowledge to do online work?
Honestly, I have found that My years as a dancer and performer helped prepare Me quite well for online work: managing people in states of intoxication, navigating the balance of being available to make a connection without allowing My time to not be valued, being comfortable in My power as a sexual Woman, being able to quickly create rapport to name just a few crossover skills. Domination gave Me the skills to easily say no to things that are not of interest to Me and to understand that there are plenty of people who crave things for which I do have interest. Being kinky is not only true to who I am, it can be a very profitable niche. Having spent My adult life working for Myself, I know how to look at and navigate My time and finances in a weekly/monthly/seasonal/yearly way that someone transitioning from more a traditional situation may find difficult.
What are some of the differences and similarities between in person and online work? 
With in person work I am able to physically guide someone through an experience via applied sensation. Ie pain, tease, sense dep/overload. Whereas with online work I need to rely on creating an aura of experience for someone via guidance and witness when possible. I also do not have the same energetic and physical cues online as in person to read how someone is reacting. I have had to become more comfortable with it sometimes truly just being a show/fantasy and that being enough if that is the level of connection the client is comfortable within. Online work has pushed Me to grow in ways that I may not have otherwise. I have had to develop more aptitude for humiliation play and role play. I have also been able to explore more deeply kinks that I enjoy but I do not offer in person, professionally, such as cuckoldry. Both in person and online work do have delicious opportunities for power exchange in all its forms be it service, worship, S/M, financial, etc.
What type of fetish shows and sessions can folks expect from You online?
I offer tradition styled sessions similar to an in-person experience, life/style coaching sessions, and various fetish sessions such as foot & ass worship, boots/shoes/stockings, gloves, and leather. Shows that one can expect include humiliation and SPH, strap-on worship & pegging, dancing and tease/denial, cuckoldry, and circle jerks (which often evolve into bi-encouragement &/or cuckoldry).
When and where can we find You online?
I am active on Twitter & IG @TheLadyKatrina
I have photo sets on Vendetta Verse https://vendettaverse.com/the-lady-katrina/
and photos & videos available on My cam page as well.
I am online live at https://TheeLadyKatrina.cammodels.com Thu, Fri, Sat, & Mon night starting between 9-10PM EST until 4AM EST.
Official Treasure Cams profile: https://treasurecams.com/home/lady-katrina/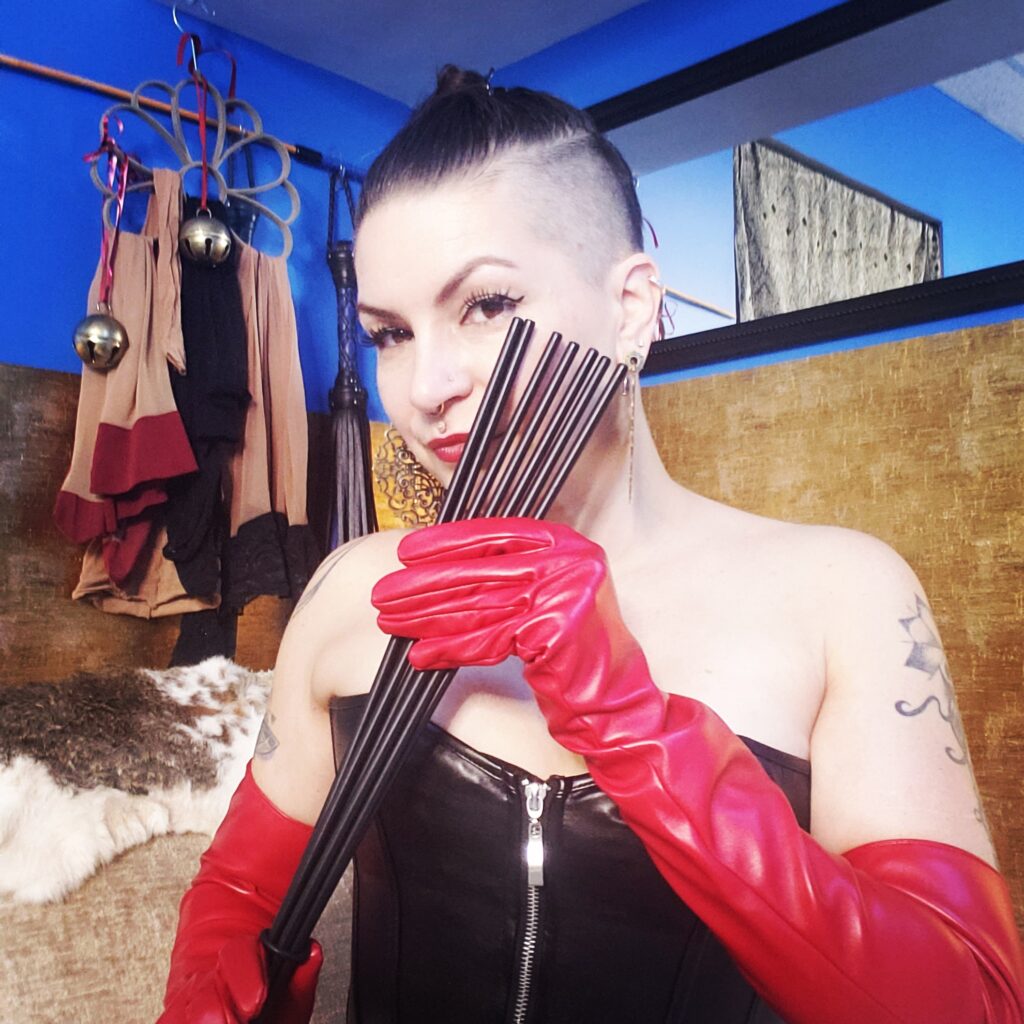 What's the first step in how a submissive should approach You for training or play?
After familiarizing themselves with My website and social media a submissive can fill out My Supplication & Session Request Form which is on the contact page of My site.
What's the best way to impress You and get Your attention right off the bat?
Potential subs that send a small gift/token of appreciation along with their form and follow My protocol without complaint get My attention. It shows that they understand the dynamic of our potential relationship and that they value My energy, time, and safety. For Me to find someone impressive, they need to be at least self aware of, if not self actuated as to, their interests, desires, and goals in regard to kink, BDSM, & D/s, and able to articulate that information. Even if that awareness is that they are completely new and exploring, quality communication is the key that gives Me the opportunity to create an amazing experience for someone.
Plans for 2022 and beyond You would like to share?
This year I am focused on continuing to grow as an online Domme and performer. I am upgrading My (computer et al) system, again, soon. I really want to expand My wardrobe and props collection! I have a number of exciting photo shoots planned, and a short film is in discussion. As the world shift into this strange new "normal" I am planning to start attending kink events again which always feeds My energy, imagination, and skill development.

Written by:
Bella Vendetta
Bella is an internationally published fetish model, writer and BDSM educator. Find more of Her work on: www.VendettaVerse.com