Performer Name:
It'sMagicalMe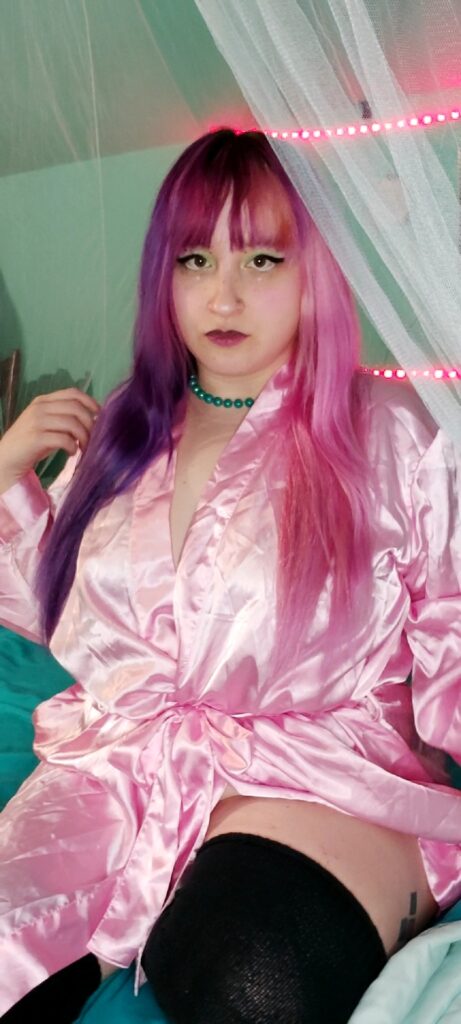 Age
30
Gender
Nonbinary femme
Sexuality
Queer
type of show I offer:
Strip shows, cooking shows, storytimes, cosplay, foot fetsh, breast/ass worship, bdsm and impact play shows It really depends on my mood! I have such a wide variety of interests, sometimes I just wanna do naked arts and crafts!
Regular Schedule
Monday, Thursday, and Friday nights & Saturday mornings
My sex work career and how I ended up on cam:
I really love taking pictures of myself, being watched by a group of people, and being on camera, so this seemed like a natural career move!
My favorite type of show to do:
Improv Connection shows, where I get a lot of feedback from my fans, and can play within the suggestion pool
Why I love working for Myself:
Being able to work my own hours and just have fun with it, is absolutely why I love this
Favorite Bands:
Musicals: animated, broadway, and wide screen adaptations; demi Lovato, p!nk, no doubt, elle king, ashnikko, and my queen Peggy Lee
Favorite Movies
Clue, princess mononoke, porco rosso, clerks, Romy & Michelle's high school reunion, sleeping beauty(2011), blast from the past, rocky horror picture show, labyrinth, robin hood: men in tights, & young Frankenstein
Favorite TV Shows
Steven Universe, the Drew Barrymore show, bobs burgers, what we do the the shadows, ghosts, the legend of vox machina, food wars, outlaw star, batman the animated series, gentleman jack, and ducktales
Favorite Foods
Pasta of variety; from stuffed shells to American Chop suey; tacos, applesauce, life cereal, blackberries, pineapple, extra cheddar goldfish, & Italian ice
Favorite Toys
My classic (and dying) plug in the wall vibrator, leather paddle, & rainbow dildo!
Wishlist link
https://www.amazon.com/hz/wishlist/ls/11FWASFXU2TRG?ref_=wl_share
Categories:
Goth, tattoos, body modification, piercings, alt, pink hair, purple hair, submissive, Switch, fetish, foot fetish, thigh highs, heels, cosplay, elf,cosplay, jiggle, egirl, thick, curvy