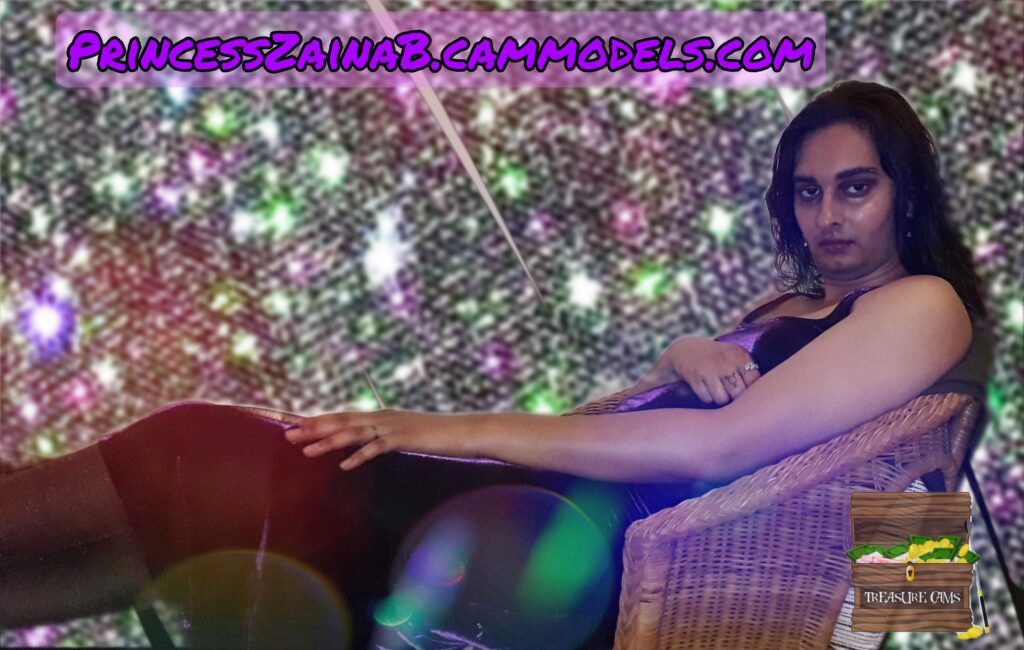 Performer name:
Princess Zainab
Age:
28
Gender:
trans
Cam link:
Types of cam shows I offer:
clit-mashing , JOI , Anal play with fingers or toys, Femdom (princess worship), nylon/stockings fetish, dildo handjob/footjob, titty + spit play
Regular schedule:
fri – 9pm – 1am —- femdom friday
sat – 9pm – 1am —- party night, anything goes
sun – 8pm – midnight – – – stockings sundays
mon – 7am – 11am – – – mirror mondays
Monthly specialty show:
so it's gonna be like a full on lecture on the anatomy of the eight pussies — prob 30mins
still working on a name for it
My sex work career and how I ended up on cam:
I've always been an exhibitionist, so I've spent my fair amount of time in chatrooms and a certain website that rhymes with eagle.
About 5/6 years ago, I stumbled across a zine called Fucking Trans Women by Mira Bellwether,,,, and that set me on my journey of talking to trans women all over the world about sex. I started sex work because it made sense as a way to earn my living for sharing the explosively sexy techniques I've learnt over the years.
I started with selling videos online, but quickly felt the need to really educate people who like trans women,, and cam naturally is a great place to have a real conversation and fun demonstrations
My favorite type of show to do:
definitely JOIs, I love to see how excited customers get when they learn all the ways they can rub themselves silly
Why I love working for myself:
ok, straight up? I'm a loud woman. I like talking, showing myself off, and having real interactions with people,, not the same tired "hi how are you" in an office cubicle.
working for myself means I can be my entire loud, lustful, silly, and slightly bossy self 😉
Favorite bands:
so many but a few to pick from – ARIVU, quay dash, karnage kills, stormzy, don omar, el general, kiko el crazy, gailen la moyeta, j dilla, d'angelo, j hus, dorothy ashby, kano,
at this point I should have stopped: Kamal Keila, Lee Fields and the Expressions, J Hus, DILLA, d'angelo, arctic monkeys, shigeto, ahmad jamal trio, pretty much any soul record,
Favorite movies
la petite vendeuse du soleil
all the oceans movies
Aadukalam (vetrimaaran), Appa (samuthirukani), silly stoner comedies, the god of cookery (stephen chow), chef (jon favreau), dope (2015), the dark knight rises
Favorite tv shows:
the football!!!!!, suits, scrubs, food wars (anime), oddtaxi (anime), any 90s/2000s sitcom like fresh prince, living single, everybody hates chris
Favorite foods:
any dish with chilli and garlic
Favorite toys:
smol butt plugs/dildos, prostate massager (bet you'd never guess where I stick it), magic wand, paddles and canes
Wishlist link:
https://www.amazon.es/hz/wishlist/ls/3PUVASWZI5N68?ref_=wl_share
Categories:
trans, femdom, joi, toys, anal, stockings, sex education
Content featuring Princess Zainab: