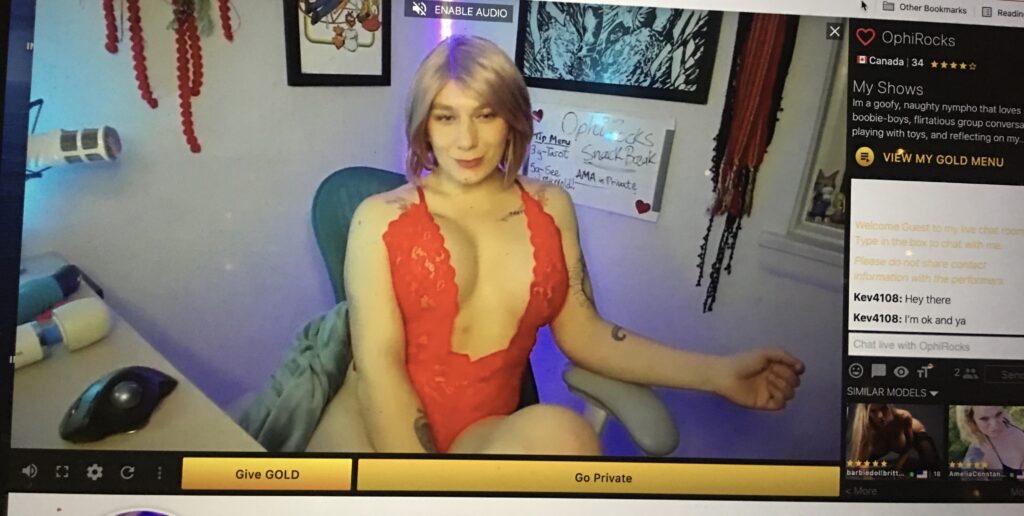 performer name:
Ophi Rocks
cam link:
Age:
34
Gender:
Post-op Transfemme (she/her)
Sexuality:
Pansexual
type of show I offer:
I'm a submissive multi-orgasmic anal enthusiast and avid collector of sex toys. I love hearing your nerdy naughty fantasies, then surrendering control to your deepest desires. Whether it is multiple insertions, remote control, endless orgasms, or breast/feet worship, I'm sure we'll have a great time! I offer Private, Exclusive, Phone and Cam2Cam.
Regular Schedule:
Monday, Friday and Saturday 8pm EST til midnight
Monthly Specialty Show:
Ophi's Sunday Best – Costumes, Cosplay and Cock, the 1st Sunday of every month
My sex work career and how I ended up on cam:
In my life I was always a very sexual person. I dreamt long & hard about becoming a pornstar, but as a prairie princess it seemed all but impossible. I worked nearly a decade as an undersexed code-slinging mom, until a few years ago I realized I was both a raging nymphomaniac and definitely-not-a-dude 😳 I started my transition, and with every step I took I got closer to realizing sex work was my true passion in life. I was finally in love with myself, and I had to share it with the world. In October of 2020 I started working in local markets, but I always felt lonely and under-exposed. I joined TreasureCams because it offers me a chance to work among my porn idols and show the world how much of a shining gem I am.
My favorite type of show to do:
My absolute favourite thing to do is give up control of my toys and cum till I can't see straight.
Why I love working for Myself:
I've worked for myself for nearly 15 years and I don't think I'd ever give it up. I've always been a smart cookie, so it gives me the chance to work hard & fast, so I have more time to play later.
Favorite Bands:
Ava Max, Dua Lipa, The Avett Brothers, Daft Punk, Halsey, Tove Lo, The Weeknd
Favorite Movies:
Thor: Ragnarok, Ant-Man & the Wasp (I was in SF when they were filming the chase scenes!!), and Dune
Favorite TV Shows:
Most recently: What If?, Loki, Wandavision, Law & Order, Rick & Morty, Black Mirror, and Castlevania
Favorite Foods:
Cheeese! I am a huge slut for cheese-based delicacies like Nachos, Pizza, Burgers, and the list goes on & on.
Favorite Toys:
Magic Wand, Lovense Nora (Rabbit) and a professionally cast dildo of my former "member"–I'm never one to turn down the opportunity to "go fuck myself". My dream is to get a HiSmith DP fucking machine and a few squirting dildos!
Wishlist link:
https://www.amazon.ca/hz/wishlist/ls/YTRMZMT1XBR4?ref_=wl_share
Categories:
Anal, Toys, Remote Control, Big Tits, Trans (mtf), Feet, Naturally Hairy